"How do you age gracefully? How do you manage longevity – how do you sustain a career? How do you stay cool, when your style of music is deemed no longer cool in any sense?" – Rob Havilla
"If you were given the choice, would you rather be a rock-star or an athlete at the top of his game, for example Lebron James?" That was the question Dan LeBatard asked Bruce Hornsby on his daily radio show some weeks back. Of course, Hornsby answered that he'd rather be a musician, particularly because he still gets to practice the craft he loves at the age of 62. Rocking out crowds never gets old. Ask walking, talking zombie, Keith Richards. But what if I tweaked that question and asked you this instead. Would you rather be a rapper or an athlete at the top of their game? The conversation changes because rap is a young man's fickle game.
The rap/hip-hop genre is unlike any other in music. It's a living, breathing organism– constantly changing and evolving, it's hard to predict how long a rapper's act can stay at the top before things switch on them. I'd make the claim that any rapper at the top of the game can only hold that spot on average for 4-6 years before they fade out. It might even be shorter than that. We've seen this with our favorite rappers from the 90s who went through the 2000s trying to reinvent themselves with album after album. The only mainstay was Jay-Z and since Magna Carta: Holy Grail, I think it's safe to say he's outworn his welcome after two decades. Combine this with the way we consume media now-a-days, and you realize how difficult the task of remaining relevant is in this age when there are other stimuli competing for your limited attention span at every turn. But I think it's safe to say, after a reign of 8 years as the hottest rapper around, Drake has found the answer.
Drake has been able to surf the seismic, chaotic waves of the rearranging landscape around him to commercial success with each endeavor. He's a genius. No one in the rap industry has their finger on the beating pulse of the genre like he does. Not necessarily because he has the vision to see in which way the industry is growing, but because he forges his own path through the jungle and carved out his own space which we have seen others follow and try to imitate.
One of my biggest knocks on Drake during his career is that his albums after Take Care don't feel like actual album projects with a general theme or cohesiveness in mind. They're a bunch of really hot tracks packaged together under a title which eventually brought us to Views last year. The little Drake engine that could was slowing down. Views which had Drake's biggest hit to date, "One Dance," felt like the artist had come to a creative dead-end. The album as a whole was stale and a drag to listen to outside of its hit singles. At the age of 29, what was left for Drake to conquer in the rap game? The next step seemed to be one of banishment. And then came More Life.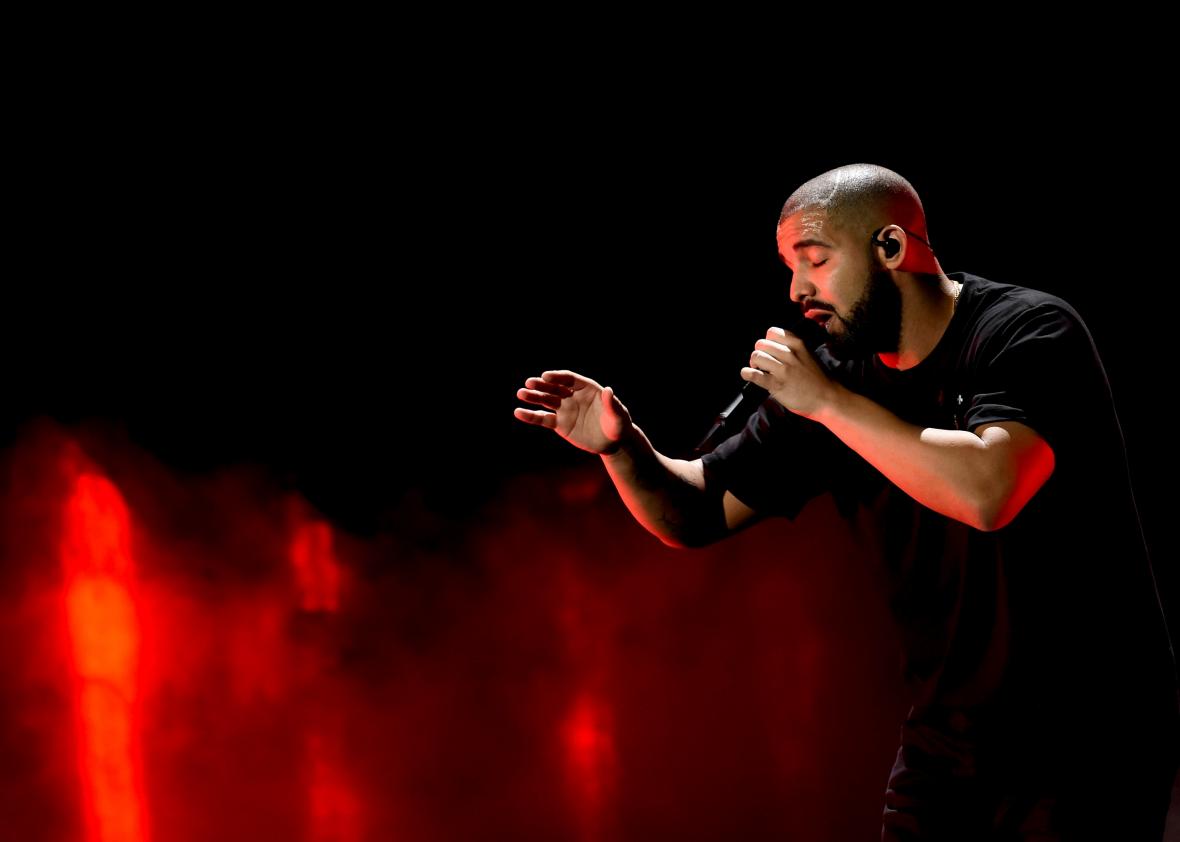 It seems that Drake has become aware of his limits when you listen to More Life. In interviews about the album, he's referred to it as "more of a playlist than an album". This comes with the idea that it's different because it's a "collection of songs that becomes the soundtrack to your life" with the listener being encouraged to pick and choose how they want to divvy up the track-list into different categories that corroborate their mood. It's an interesting approach to have as a music artist when you think about albums in their traditional sense and it tells us something about how we receive music in general in 2017.
In 2017, in a heightened age of technology which gives everyone, (including me) a voice, there's no longer a clear music critic voice that we can listen to. Fifteen years ago, we had the trusted mic rating system of The Source magazine. They sparked the conversation by telling us what projects would be deemed as "classics" moving forward. The music press is now so decentralized with the hundred of voices out there that the pressure is no longer on writers to have anything particularly meaningful to say, but rather on who can get their message out the fastest. Which is why we have album reviews coming out at 8 am after an album had a midnight release. With so many voices, it's hard to reach a consensus on the ratings of artists and their music making the conversation much more subjective – about how that person's music makes you feel at that particular point in time. It's why no one can decide on whether Drake is truly one of the greatest rappers to ever do it, because we can't decide as a community whether he has a classic album or not. And with the changing times, I think it's best we move forward from old ideas and look to the future. What does it actually matter? Because when we look back another fifteen years from now and we think about which rapper ran the 2010s, it's going to be Drake and his reputation for dropping hit after hit after hit.
When listening to More Life, Drake is aware of his stagnation. On the album's last track, "Do Not Disturb" he talks about the desolate situation he was in at the time:
"I was an angry youth while writing Views/ Saw a side of myself that I just never knew."
After listening to projects like Nothing Was The Same and Views, the fans should be able to realize what he's referring to. Aubrey Graham is the least interesting part of his work. His solipsistic music and self-pitying held him back before but with More Life and the use of many guest features on the playlist, he gives himself room to breathe and allow the things that made him great to resurface again. What Drake gives us with More Life is an organic, fun record that flows with energy. Where Rick Ross went back to his Teflon Don days with his album, Rather You Than Me, Drake chose to explore the music landscape. You may call it culture appropriation, but at least it shows he's paying attention to what's good out there. And he has an ear for listening clearly from his collaborations with dancehall to afrobeat, and now British grime stars. "I switch flow like I switch time zone." He rarely makes the wrong choice. He may be corny. But he is a genius.
There hasn't been another rapper ever whose place in pop culture has been so solidly established. In his corniness, he seems aware at this point of what we will let slide and what we won't. He knows himself and what his marketability is worth. And he shows it with More Life which I see as a course-correcting attempt from Views. It's long as hell. Twenty-two tracks. This may not offer much in the way of "replay ability," but it immerses the listener in Drake's world. And in the right setting, at the right time, there are fewer better places to be in the music world.