Because there's so much good Spring TV coming…
In 2016, it's safe to say that there has never been this much television entertainment available to viewers. With so many different platforms creating original content, having choices has become a curse inasmuch as it is a gift. There are too many shows to watch and so little time! With the Spring TV schedule rolling around the corner, here's a quick guide to some of the shows you need to be paying attention to now, or be getting ready for.
The Americans
I'm starting this off with my favorite show on television. FX has quietly built a reputation for not caring as much about ratings for their TV shows; instead they focus on the quality and it doesn't get much better than The Americans. It's quite easily one of the best (if not THE best) dramas in progress right now. The show is a period drama set in the early 1980s during the Cold War. It tells the story of Phillip (Matthew Rhys) and Elizabeth Jennings (Keri Russell), two Soviet KGB agents living deep undercover posing as a married couple with two children in Washington D.C. Their kids have no idea that their parents are Russian spies. Their next-door neighbor, Stan Beeman (Noah Emmerich) is an FBI agent tasked with protecting the U.S. homeland against foreign threats. It's a tragedy that no one has really heard about this show and I believe it has to do with the show not being on Netflix. The 4th season starts on March 16, 2016. If you're interested in watching the Jennings juggle the issues that come with maintaining a family, as well as trying to avoid being arrested for war crimes or killed, I got the plug. People need to watch this show. I can't say it enough.
American Crime Story: The People vs. OJ Simpson
FX is already four episodes into their miniseries detailing the events of the trial of O.J. Simpson, played by Cuba Gooding Jr. If you can get past the question as to why Radio was cast to play the Juice, you'll find a great show that accurately portrays what is still one of the most intriguing and weirdest Hollywood meltdown stories to date. Also you get to see David Schwimmer play the role of "Whiny Ross" Rob Kardashian, John Travolta as Robert Shapiro, Courtney B. Vance as Johnnie Cochran and Sarah Paulson as Marcia Clark (who is currently giving my favorite performance on the show so far). It airs on Tuesdays and has only 6 episodes left.
House of Cards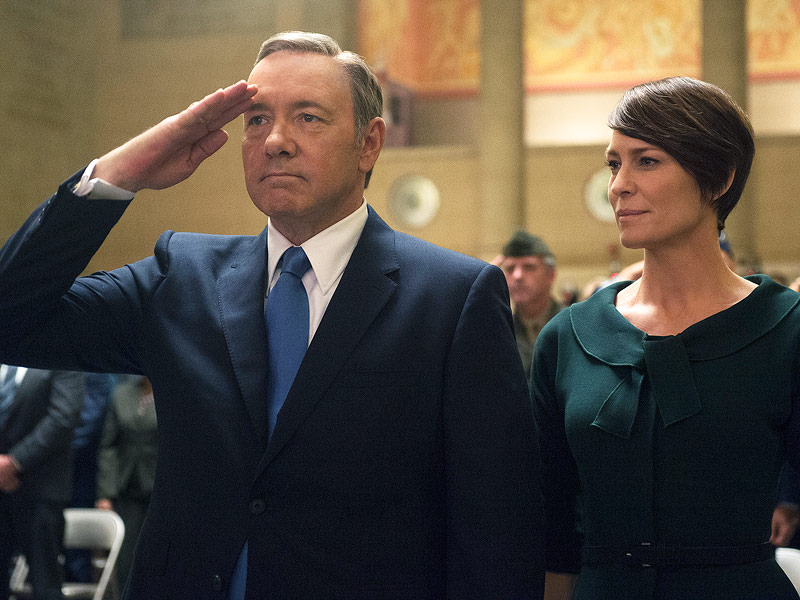 Everyone's favorite political TV show has been off the air for a while now, so until Veep comes back this summer, you're going to have to make do with House of Cards. (Yeah, I said it.) I may have my gripes with this show, but I can't deny that it's still very entertaining. Kevin Spacey and Robin Wright carry the show with charismatic performances as Frank and Claire Underwood, the President and First Lady of the United States. The show returns to Netflix on Friday, March 4th and Frank will resume his battle for his political life once again. Who knows where his machinations will take him now.
Better Call Saul
If you were a fan of Breaking Bad, then you're going to love Vince Gilligan's new AMC project, also set in Albuquerque, Better Call Saul. The show gives tells the story of everyone's favorite crooked lawyer, Saul Goodman. Working as a prologue to Breaking Bad, Bob Odenkirk plays Jimmy McGill (before we came to know him as Saul), a small-time, hardworking lawyer trying to make it to the big leagues. The show has also included Breaking Bad alumni, Mike Ehrmantraut (Jonathan Banks) and Tuco Salamanca (Raymond Cruz) so far, so who knows what other cameos Gilligan has planned for the show. Its second season just started and if you haven't watched it yet, the first season is available on Netflix. It airs Mondays at 9PM on AMC.
American Crime
American Crime is an anthology crime drama that centers on race, class, and gender politics. The first season of the show received much critical acclaim focusing on a racially charged murder and the events that followed after. The second season, however, takes on a whole new story that takes place in Indianapolis where a working class student attending a private school accuses members of the basketball team of sexually assaulting him. The show was able to bring social issues such as racism and classism to light in its first season. This time, it's decided to bring other social issues to the forefront such as homophobia and cyberbullying. Stars from the first season return to play new characters, such as Timothy Hutton, Regina King and Felicity Huffman. The second season has introduced Andre "3-Stacks" Benjamin as a recurring cast member as well. The show airs on Wednesdays and is halfway through its second season.
11.22.63
Based on the novel by Stephen King, James Franco plays Jake Epping, a teacher who is given the opportunity to travel back in time to 1960 with the goal of preventing the assassination of John F. Kennedy. In doing this, however, he becomes attached to the life that he makes in the past. His actions in the past, however, affect the outcome of the present; but every time he goes back to 1960, the world resets and he's back to where he was at that date. I mean… Who doesn't love a complicated time travel story? It is a Hulu original that has received high critical acclaim from Franco's performance to the adaptation of King's plot. They are only two episodes in, since Hulu refuses to adopt the Netflix binge model, but this show is definitely worth watching.