Because no weekend vacation is complete without a good brunch, I had the pleasure of checking out South City Kitchen in Midtown Atlanta.
My February #BlackGirlMeetsWorld adventure lead me to Atlanta, one of my absolute favorite cities! I had tickets to attend NSFW Events' Atlanta edition of The Bourbon Ball, a semi formal cocktail event featuring J. R. Revelry bourbon. 5 hours of all you can drink premium bourbon meant I needed a solid meal to hold me down. My good friend, Philip, who fancies himself an Atlanta restaurant savant, told me my weekend would be a bust if I didn't make it to South City Kitchen for their famous brunch.
Any place that accepts OpenTable reservations is already good with me. Although it was just Brittany and me, I made a reservation for 5 and decided it would be open invite for anyone who could join. My line sister, her friend, and a new acquaintance from Dallas joined us for the food adventure. Since brunch in any city is a big deal,  we checked in about 15 minutes early. The hostess and manager were really kind and welcoming and assured us our table would be ready in a few minutes. The restaurant is cozy, and I don't mean that with any sarcasm. While the white linen-draped tables are close to each other, you don't feel crowded. It simply feels cozy and strangely more inviting than I would have imagined.
Full disclosure: I was still really hungover from the previous day's drinking  that had me in bed by 7 pm and caused me to miss a full night of fun, so I stepped outside for fresh air until it was our turn to be seated.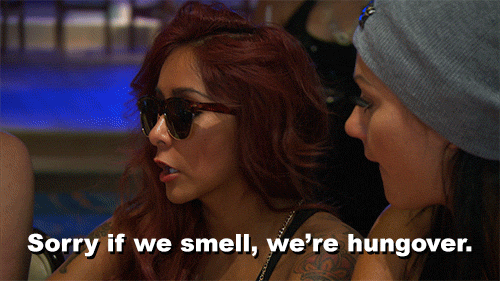 Once seated, I browsed the special cocktail menu. I specifically picked a place that didn't serve bottomless mimosas, for fear that I would have overindulged and repeat the previous night's transgressions. (Save your judgement.) South City Kitchen's drink menu was obviously crafted by an artist with an affinity for liquor. Everything seemed almost too pretty, too intricate to drink. I ordered the Smoke & Mirrors. It was perfectly blended with small batch Woodford Reserve bourbon, spiced orange syrup, and bourbon-soaked smokey cherries.
While we made decisions about what to order first, we were treated to a complimentary bread basket with dense buttermilk biscuits and cornbread accompanied with an apple butter spread and a sweet cream butter. It was difficult to resist overindulging on the breads, but I went to South City Kitchen on a mission.
Our table shared a double order of fried green tomatoes and they were fantastic! Look, fried green tomatoes are hard to pull off. So many things can go wrong. South City Kitchen got these so right that I could eat a stack of them as an entrée. The fried green tomatoes are stuffed with creamy goat cheese and fried to perfection. Laid on a bed of a warm pepper coulis and finished with olive oil and basil, we argued over who would get the last one (and ended up splitting it in half.)
Brittany ordered a bowl of the She-Crab bisque made with fresh cream, sherry and lump crab. She shares, "it's creamy, with a nice seafood flavor." Adding this to my "must try" list.
I don't eat shrimp, but the shrimp and grits smelled divine! This plate is a southern staple so restaurants who execute it flawlessly deserve all the rounds. My brunch guest raved about it, so all you shrimp and grits enthusiasts need to try it if you're in Atlanta.
I saved the best for last. When I asked Phil what was the MUST TRY item at South City Kitchen, without hesitation he insisted on the fried chicken. I'm a fried chicken purist. I RARELY like the fried chicken at ANY restaurant that raves about its fried chicken. "What about [insert famous fried chicken at famous restaurant]?" Yes, I think that fried chicken is overrated, too.
With bated breath, I ordered the buttermilk fried chicken with malt waffles filled with pecans. Our waitress, Colleen, informed me I would love the 48 hour buttermilk-brined chicken. While I was slightly more intrigued, I playfully quipped, "that's what they all say." Well, South City Kitchen made me eat my words… and all of my fried chicken. It. Was. Amazing.
The crust was flavorful and crunchy and reaffirmed that I could definitely eat fried chicken skin if they sold it by the bag. The tender, white meat was so moist and rich with flavor ERMAHGAWD the fried chicken was perfect. I know, you probably think I'm being dramatic or super fat and greedy. While I'm a combination of all the above, I kid you not that South City Kitchen's fried chicken is easily the best fried chicken I've ever had at a restaurant.
Sigh, all  good things must come to an end. With empty plates and full bellies, we paid our checks and said our goodbyes. Another fabulous brunch with great friends in the books. As I write this review, I'm having more fond memories of that fried chicken. If you're in Atlanta, do yourself a favor and head to South City Kitchen to order the fried chicken. If you're not a brunch person (my condolences) they also offer the fried chicken on both their lunch and dinner menus. Getchu some!
And for those wondering, I had a blast at Bourbon Ball. Good food before good liquor will do that to you.